I think Father's Day is a little unfair.
On Mother's Day all mothers are meant to put their feet up and be completely spoiled rotten.
On Father's Day, all fathers are meant to have lay ins and be doted on…Erm… Doesn't this happen every day?!
My OH is an amazing Daddy. He truly is. He's come into our life, P1 and me, and taken on the father figure role so well. P1 now dotes on her Daddy, she's completely head of heels for him and he is for her too. The love, patience and kindness he has for them is overpowering. I'm sometimes a little jealous of how he copes with them both. Taking it all in his stride.
He doesn't have to do nappies, or feed P2, or wake up in the night, or get up in the mornings. But he does do more playtime with them both than I do. He spends more money on them than I do.
Happy Father's Day to my wonderful OH! We are spending the day in bed, chilling after a busy few days. What are you up to today?
Happy Father's Day and a thought to every son and daughter that cannot spend the day with their Daddy's.
I'm walking 5km along our local seafront on 29th June 2013 for the charity, Bliss – babies born too soon, too small and too sick. Please sponsor me in my Buggy Push by clicking the button below. Anyone can donate!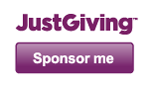 You can purchase my eBook here: Becoming A Young Mum
I'm on Facebook & Twitter
If you'd like me to review your product, place or service please contact me