Seriously, I'm exhausted. Quick post this morning.
P2 just would not settle in her cot last night. She's done so well up until then.
She woke up so many times I felt like a yoyo. I persevered three times but when the fourth arrived and they'd all been within about 3hours of me going to bed, I gave up.
I co-slept. A very uncomfortable worried sleep share last night. I don't like to have her in the middle because when my OH is asleep… He's asleep! But now the Moses basket isn't next to the bed, I'm terrified she'll fall out. So I spent my night half awake, squished up next to my OH, boiling hot and with a dead arm.
Happy Father's Day… A post will follow later.
I'm walking 5km along our local seafront on 29th June 2013 for the charity, Bliss – babies born too soon, too small and too sick. Please sponsor me in my Buggy Push by clicking the button below. Anyone can donate!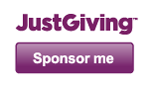 You can purchase my eBook here: Becoming A Young Mum
I'm on Facebook & Twitter
If you'd like me to review your product, place or service please contact me