It seems we've hit another brick wall with P1. I hate this. Food is such an issue it's ridiculous.
You need food to survive. So why can't she grasp the fact that she has to eat!! And that one or two mouthfuls just isn't enough to sustain her.
Breakfast is never an issue. She'll happily have two helpings; a chocolate wrap and a bowl of cereal with milk. She doesn't usually snack between breakfast and lunch. Then it's a massive battle. She'll have barely a bite, maybe two if we're lucky then refuse to eat anything.
When I say refuse… It's stupid. She'll cry, shout, run away etc etc. As if I'm really forcing her to do something she doesn't want. It's food. She has to eat it. Why can't she see this is a natural part of life?!
We keep trying to tell her that if she doesn't eat she'll need more tests up the hospital. I'm scared. I'm scared that she'll be given all sorts of treatment just because I can't get my daughter to eat one fish finger without an argument.
Win a wonderful breastvest. Please enter my competition here: Breastvest Competition
I'm walking 5km along our local seafront on 29th June 2013 for the charity, Bliss – babies born too soon, too small and too sick. Please sponsor me in my Buggy Push by clicking the button below. Anyone can donate!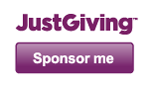 You can purchase my eBook here: Becoming A Young Mum
I'm on Facebook & Twitter
If you'd like me to review your product, place or service please contact me